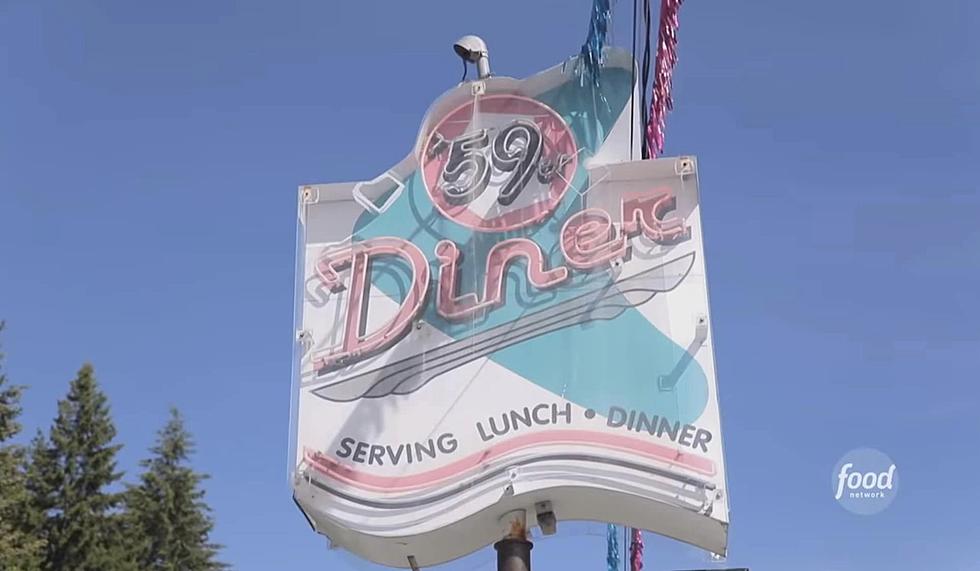 Guy Fieri Diners Drive-Ins & Dives: Leavenworth's 59er Diner
Food Network (YouTube)
Guy Fieri Diners Drive-Ins & Dives: Leavenworth's 59er Diner
It was the classic New Jersey style mirrored diner siding of the 59er Diner, that caught Guy Fieri's attention, along Highway 2.
I know this because I, like Guy Fieri, used to visit these well loved diners. Diners where you can order breakfast, lunch or dinner menu items well into the late night hours - 24 hours a day.
When The 59er Diner burned down in June of 2016, owner Joe Cannata immediately made t-shirts for him and his staff that read "Make Lemonade." 
For the 59er Diner's big comeback, Joe's envisioned the classic mirror sided, east coast diner. "They built this diner in Georgia, in 6 pieces and drove it cross country."
What was the one thing that caught Guy Fieri's eye and taste buds? The 59 Diner's Mozzarella Sticks. 
How do they prepare it?
JOE: "We got a egg wash here, were gonna throw a few spices in"
"Sugar, garlic powder, a little oregano, paprika, dried mustard, lemon pepper, black pepper"
Guy Fieri - Right in the egg wash?
JOE: "Right in the egg wash"
Guy Fieri - You want some milk in this too?
JOE" "Just a touch"
Guy Fieri - we got the beautiful mozzarella logs that were cut - into the precise…
JOE: "5/8th of an inch - 5/8th by 5/8ths"
Guy Fieri - There you go
JOE: "Flour on - then you gotta knock the flour off"
Guy Fieri - into the egg wash
JOE: "into the panko"
(shows Guy how he forms the mozzarella sticks)
"So you go like this" (rolls them in his hand) "were gonna hit the end and were gonna batter them again"
Guy Fieri - The little roll thing is interesting, so it keeps it from being square and now it makes it more round
(JOE nods)
Guy Fieri -...after they set up for a couple hours, they'll fry at 350?
JOE: "That's right - were gonna serve with some fresh marinara…(describes the procedure)
(Guy break the mozzarella sticks apart - the cheese stretches)
The fact that you can contain all the cheese - inside of this, without having the blowouts - is outstanding, cause that's one of the biggest challenges. You fry it just the right amount it - where the cheese is melted, not too oily and still have nice crunch. THATS A LEGIT CHEESE STICK. -Guy Fieri

 
High praise indeed.
---
Grab the address, grab the family and go try these Mozza sticks and other tasty items at The 59er Diner in Coles Corner.
The 59er Diner - 15361 US Hwy 2, Leavenworth, WA 98826
Sunday through Thursday 9am to 8pm
Friday and Saturday 9am to 9pm
---
Check out where else Guy Fieri's Diner, Drive-In & Dives has been in Washington State - With Uncle Dave's three part series: Part One, Two and Three
INFO SOURCE: Food Network on YouTube
The 12 Best Diners at the Jersey Shore
You'll want to check out these diners the next time you are down the shore!
Here's How To Take The Most Delicious Northwest 'Diners, Drive-Ins And Dives' Trip
1,443 miles. 10 incredible restaurants that have been featured by Guy Fieri on Diners, Drive-Ins and Dives. The adventure starts in Boise, Idaho!
More From The Quake 102.1