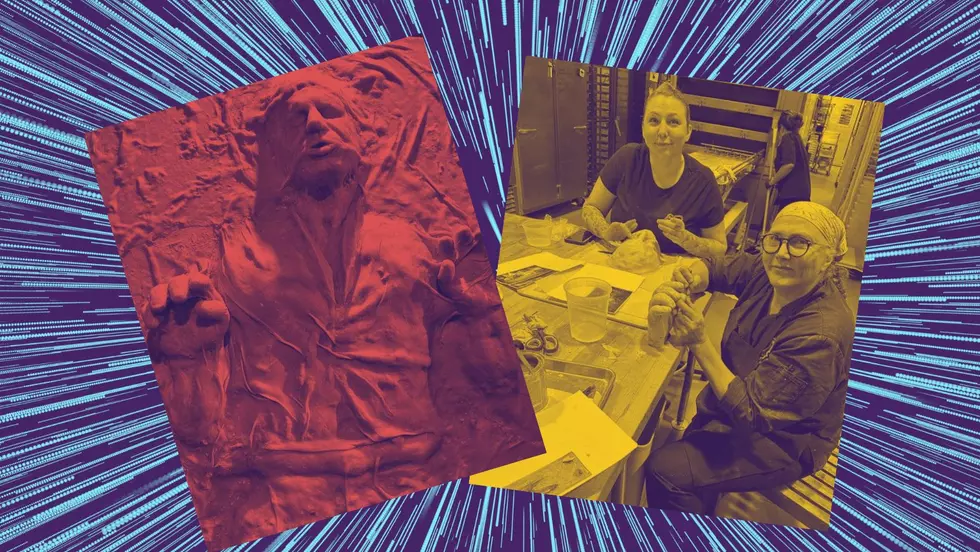 Amazing Han Solo Bread Sculpture Delights at Bakery in Benicia
Canva, One House Bakery
Fans of a Galaxy far, far away will instantly recognize the image below as a scene from Irvin Kirshner's dark, epic Star Wars sequel, The Empire Strikes Back. Only this isn't a still-frame from the film, it's a bread sculpture recreation by Benicia, California's One House Bakery. That's not Han Solo you're looking at - it's Pan Solo.
In this version of the space fantasy, our hero isn't frozen in carbonite, he's been "encased in levainite." Unlike the mysterious "ways of the Force," which are kept close to the robe-and-vest by Jedi Knights, One House Bakery is happy to share how they made the magic happen.
 

 

 

View this post on Instagram

 
One House Bakery admits to being "giant nerds," and are clearly big fans of Star Wars.
This isn't their first bread sculpture inspired by George Lucas's giant universe of good guys and bad guys, robots and aliens.
A couple years ago they crafted a Mandalorian tribute called the Pain-dough-lorian, along with Baby Dough-da.
They even created a Pan Droid to take the whole photo op over the top.
View this post on Instagram
The mother/daughter team at One House Bakery clearly love the attention and acclaim that their life-sized, one-of-a-kind Star Wars action figures bring them. Pan Solo was even featured on the TODAY Show this week.
View this post on Instagram
But most importantly, the bakers and fans are having fun with it. You could say that the Pan Solo bread sculpture from One House Bakery has brought the galaxy together.
Star Wars Arcade in Spokane
Spokane's Jedi Alliance arcade, filled with video games, pinball and pop-culture movie memorabilia,is nostalgia on steroids.
Boise Star Wars Fans Are Obsessed With This California Castle That Houses Darth Vader
This castle is a Star Wars fan's dream house, complete with Stormtroopers and Darth Vader guarding the 26-seat theater, perfect for binge-watching with friends!
More From The Quake 102.1