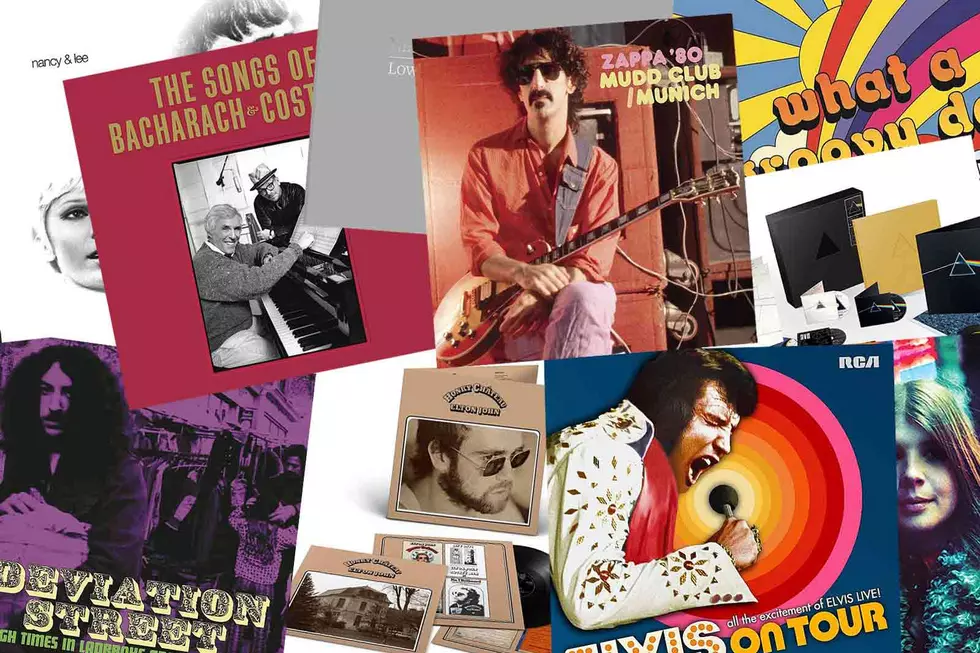 Reissue Roundup: Winter Sets From Pink Floyd, Elton John and More
UCR
Expanded reissues from two of the '70s' biggest acts headline the best archival sets of the past three months. Elton John's Honky Chateau and Pink Floyd's The Dark Side of the Moon marked turning points in both of their careers, No. 1 albums that altered the era upon their respective releases in 1972 and 1973.
The sets include period live tracks that offer other perspectives on classic songs that have been part of the music landscape for five decades. Concert recordings also show up on the latest Frank Zappa release (this one, a pair of shows from his short-lived 1980 band) and a deluxe box set by recent Rock & Roll Hall of Fame nominees New Order that boxes up one of their greatest and most influential albums.
A pair of Elvises also show up in the best new sets from winter 2023: Elvis Costello, with a box set of his collaborations with the recently departed Burt Bacharach, and Elvis Presley, whose 1972 concert film, Elvis on Tour, gets a belated soundtrack.
A couple of long out-of-print obscurities, with previously unreleased material as a bonus, and two various-artist compilations focusing on specific late '60s and early '70s scenes, round out the season's most noteworthy reissues.
Elvis Costello & Burt Bacharach, The Songs of Bacharach & Costello
What It Is: Four-disc box set collects collaborations between Costello and Bacharach that started with 1996's "God Give Me Strength" and continued through the 1998 album Painted From Memory and co-writes on later Costello albums.
What's on It: The remastered 1998 LP is here but so are later tracks – some released, some never heard before – on the new Taken From Life, a live disc and a CD featuring Costello's covers of Bacharach and Hal David's songs over the years.
Best Song You Know: Costello and Bacharach first teamed up for "God Give Me Strength" for the Grace of My Heart soundtrack, which ended up on Painted From Memory. It remains their best song together, drawing from their shared strengths.
Best Song You Don't Know: Following Painted From Memory, a Broadway musical based on the album was proposed. It never materialized, but songs from the score make their debut here, including the lush "You Can Have Her" overseen by Bacharach.
Elton John, Honky Chateau: 50th Anniversary Reissue
What It Is: Elton John's first No. 1 album belatedly celebrates its golden anniversary with a two-CD (or double vinyl) set that adds session demos and live songs – performed just days after the sessions took place – to the original chart-topping 1972 LP.
What's on It: The nine demos don't include any outtakes or unreleased tracks but rather early versions of songs that ended up on the finished album. Likewise, the concert recordings from London in February 1972 feature eight Chateau album cuts.
Best Song You Know: "Rocket Man (I Think It's Going to Be a Long, Long Time)" became John's highest-charting single at that point and the album kicked off Elton-mania, the first of six straight No. 1 LPs (seven if you include 1974's Greatest Hits).
Best Song You Don't Know: The live version of "Rocket Man" from the Royal Festival Hall show was new to the audience; it would be another two months before the single debuted. But even then the audience knew John was on the verge of something big.
New Order, Low-Life (Definitive)
What It Is: New Order's third album is expanded to include two concert DVDs and a hardback book with new interviews. The original 1985 album is remastered on both vinyl and CD and includes a second CD of unreleased mixes and alternate versions.
What's on It: Low-Life is where New Order finally broke from Joy Division's shadow and became one of the best and most influential bands of the '80s. Everything comes together here, including the group's pioneering use of synths and the great songs.
Best Song You Know: "The Perfect Kiss" remains a key single in the band's evolution. But this "Definitive" box doesn't include any of the 12" mixes that were so important to New Order's story. The longer version (on Substance) is worth hearing.
Best Song You Don't Know: The previously unreleased instrumental "Writing Session Recording" of "The Perfect Kiss" charts the song's earliest origins; the DVDs of post-LP-release shows from the Netherlands, Tokyo and Toronto reveal a growing live band.
Pink Floyd, The Dark Side of the Moon 50 Years
What It Is: The 50th anniversary of one of the greatest albums ever made features a newly remastered take on the classic 1973 album plus a concert LP, The Dark Side of the Moon - Live at Wembley Empire Pool, London, 1974, from the record's hit tour.
What's on It: The deluxe box set includes CD versions of both albums, vinyl editions of both works, Blu-ray and DVDs with 5.1, Atmos and remastered stereo mixes, and a pair of 7" singles for "Money" and "Us and Them." And a gorgeous 160-page book.
Best Song You Know: There's no new material here - even Live at Wembley Empire Pool was released as part of a 2011 reissue - so you probably know the album inside-out by this point. Pick your favorite: "Money," "Time," "The Great Gig in the Sky," etc.
Best Song You Don't Know: The new remaster opens up this already impeccably sounding album even more. There's a reason The Dark Side of the Moon still thrills 50 years after its debut: New corners and textures are revealed with every listen.
Elvis Presley, Elvis on Tour
What It Is: The 1972 movie Elvis on Tour was the last film starring Presley released during his lifetime. There's never been a proper soundtrack for the movie, which documented the King's 15-city American tour from earlier that year.
What's on It: In addition to the feature film, the seven-disc box includes performances from four concerts as well as rehearsals with Presley and his ace band from Hollywood right before the tour started. Most of the material hasn't been released before.
Best Song You Know: The songs performed during the tour were staples of Presley's '70s set lists, including "Polk Salad Annie" and "An American Trilogy," and a mix of early, '50s classics. A handful of these versions made it onto various LPs over the years.
Best Song You Don't Know: The two discs of rehearsals are Elvis on Tour's main draw. A cover of Kris Kristofferson's "For the Good Times" is laced with emotion, but it's a fiery take of "Burning Love" – Presley's last Top 10 hit later in 1972 – that sizzles most.
Nancy Sinatra and Lee Hazlewood, Nancy & Lee Again
What It Is: Less than a year after the CD debut of Nancy Sinatra and Lee Hazlewood's now-classic 1968 album, Nancy & Lee, the follow-up record from 1972 finally gets reissued. Like its predecessor, the album takes off in some wild, disparate directions.
What's on It: In addition to the original album's remastered 12 tracks, the updated Nancy & Lee Again includes two bonus tracks, one never heard before and the other making its vinyl debut. (The album is available on CD, 8-track and digital, too.)
Best Song You Know: A cover of Dolly Parton's "Down From Dover" was released as a single in early 1972 but stalled at No. 120. It's a great take on the song, which fits right in the album's mix of other covers and Hazlewood originals.
Best Song You Don't Know: Hazlewood's "Think I'm Coming Down" was recorded during Nancy & Lee Again's 1971 sessions but sat untouched for more than 50 years. It's a perfect sequel to the 1968 album, whose reputation has grown over the decades.
Laurie Styvers, Gemini Girl: The Complete Hush Recordings
What It Is: Styvers was a Texas-born singer-songwriter who moved to London in the '60s and was part of the psychedelic-folk group Justine, which released one LP in 1970. Within two years she launched a solo career. She died in 1998 at age 46.
What's on It: Signed to Shel Talmy and Hugh Murphy's Hush Productions, Styvers released Spilt Milk in 1972 and The Colorado Kid a year later. Those two albums plus demos, alternates and previously unreleased songs make up the two-CD Gemini Girl.
Best Song You Know: Both LPs have been out of print for decades, so most of this is probably unfamiliar to listeners. Spilt Milk's opening song, "Beat the Reaper," was released as a single and is probably the best representation of her honeyed style.
Best Song You Don't Know: The 13 previously unreleased cuts range from alternate versions of album tracks to leftovers from sessions. Most fit the early-'70s singer-songwriter pop template, somewhere between Carole King and Carpenters.
Frank Zappa, Zappa 80: Mudd Club/Munich
What It Is: Two full 1980 concerts – one recorded in New York City, the other in Munich, Germany – are collected on three discs in the latest Zappa archive release. The quintet featured here didn't last long but was one of the best lineups of his later days.
What's on It: Much of the material comes from Zappa's recent albums at the time, Joe's Garage and Sheik Yerbouti, along with classics "I Ain't Got No Heart" and "Chunga's Revenge." A few of the songs ended up on 1981's You Are What You Is.
Best Song You Know: Only two of the 37 tracks found on Zappa 80 were released before this, on the live collection You Can't Do That on Stage Anymore: "Love of My Life" (from the New York show) and "You Didn't Try to Call Me" (Munich).
Best Song You Don't Know: "Outside Now," taken from the May 8, 1980, Mudd Club performance, runs about the same length as the version found on 1979's Joe's Garage Acts II & III, but Zappa's solo slices deeper and sharper in this prime live take.
Various, Deviation Street: High Times in Ladbroke Grove – 1967-1975
What It Is: This three-CD set documents a scene that has been called London's answer to Haight-Asbury for its freak-friendly music and exchange of artists during its half-decade of existence. Hawkwind and Tyrannosaurus Rex originated there.
What's on It: Many of the 58 tracks collected on Deviation Street have never been released before, making it a comprehensive set for collectors and fans of the genre. Dig deep in the notes, and you'll recognize some familiar musicians buried there.
Best Song You Know: Early tracks by Hawkwind ("We Took the Wrong Step Years Ago"), T. Rex ("Rings of Fortune"), Motorhead ("Lost Johnny") and the 101'ers featuring the Clash's Joe Strummer ("Silent Telephone") are highlights.
Best Song You Don't Know: An early Roxy Music's demo, "2HB," is included here and reveals that even then the band was playing with sounds few of its contemporaries approached. The song ended up on their debut; this take scrapes at its roots.
Various, What a Groovy Day - The British Sunshine Pop Sound 1967-1972
What It Is: Three discs of mostly obscure British artists dip into a sound more identified with California groups that sprang from the Summer of Love. Sunshine pop leaned toward bubblegum at times; these acts chew it up with smiley-face harmonies.
What's on It: The 87 tracks collected on What a Groovy Day include some familiar names: Petula Clark, the Hollies and the Zombies, among them. But mostly you'll find forgotten groups like the Piccadilly Line and the Rainbow People.
Best Song You Know: The Seekers' "Georgy Girl" was a hit around the world, including a No. 2 showing in the U.S. in 1967. A handful of other cuts were also minor hits, but the fun is uncovering songs that had no idea they were part of a movement.
Best Song You Don't Know: "Try a Little Sadness" was one of the first songs Genesis submitted as part of a demo to land a record deal in 1967. By the time the prog and pop giants finally made their debut in 1969, the song was gone. But it's here in demo form.
More From The Quake 102.1