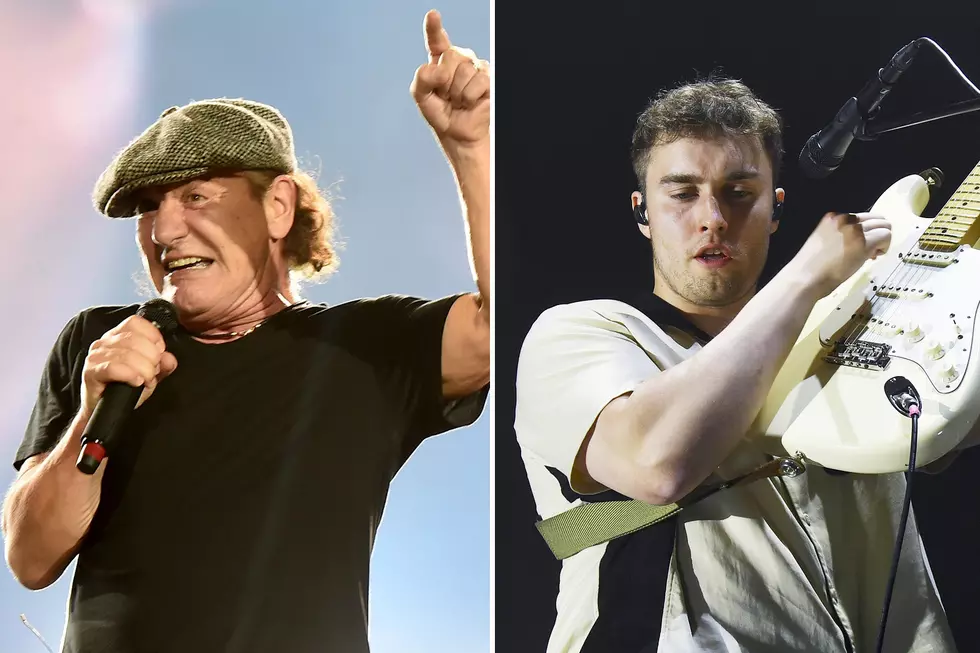 Watch Brian Johnson Sing AC/DC Classics at Hometown Guest Spot
Kevin Winter / Anthony Devlin, Getty Images
AC/DC frontman Brian Johnson made a guest appearance at younger rock star Sam Fender's show in the pair's hometown of Newcastle in northeast England last night (June 10).
Johnson was introduced midway through Fender's show at St. James' Park, the home of the Newcastle United soccer team, where they delivered covers of "Back in Black" and "You Shook Me All Night Long" to an enthusiastic crowd. Video clips of the moment can be seen below, with Fender's band wearing Newcastle United shirts.
Johnson, 75, was born in the Dunston area while Fender, 29, grew up in nearby North Shields. Both have retained connections to their birthplaces, and both are known for having retained their strong local "Geordie" accents.
It was the second of two shows by Fender at the stadium, marking the first time a band consisting entirely of locals headlined there. "It's been a running joke since we started the band," he said when the concerts were announced. "We used to be like, 'Ah, imagine if we headlined St James' one day!' Now that it's happening, it's a little bit bizarre." He added: "No actual Geordie band has ever done it. Brian Johnson did it with AC/DC, but they were already an Australian band that were doing well. For the whole band to be from the area and to play there, it's a really, really big thing for us."
Watch Brian Johnson and Sam Fender Play 'Back in Black'
Watch Brian Johnson and Sam Fender Play You Shook Me All Night Long'
Last year Johnson told how he'd encountered rock 'n' roll on the streets of Duston, after he heard a young woman playing a Little Richard single in her home. Despite being 12 years old, he knocked the door and asked her to play it again. "And she said, 'Well, you've got some nerve, but okay,'" he recalled. "'Stand over there under the window.' … I'll never forget her."
AC/DC will appear at the inaugural Power Trip festival in Indio, CA., in October.
Rock Hall's Worst Band Member Snubs
When the group gets inducted into the Rock & Roll Hall of Fame without you.
Was AC/DC's 'Flick of the Switch' Doomed to Fail?
More From The Quake 102.1