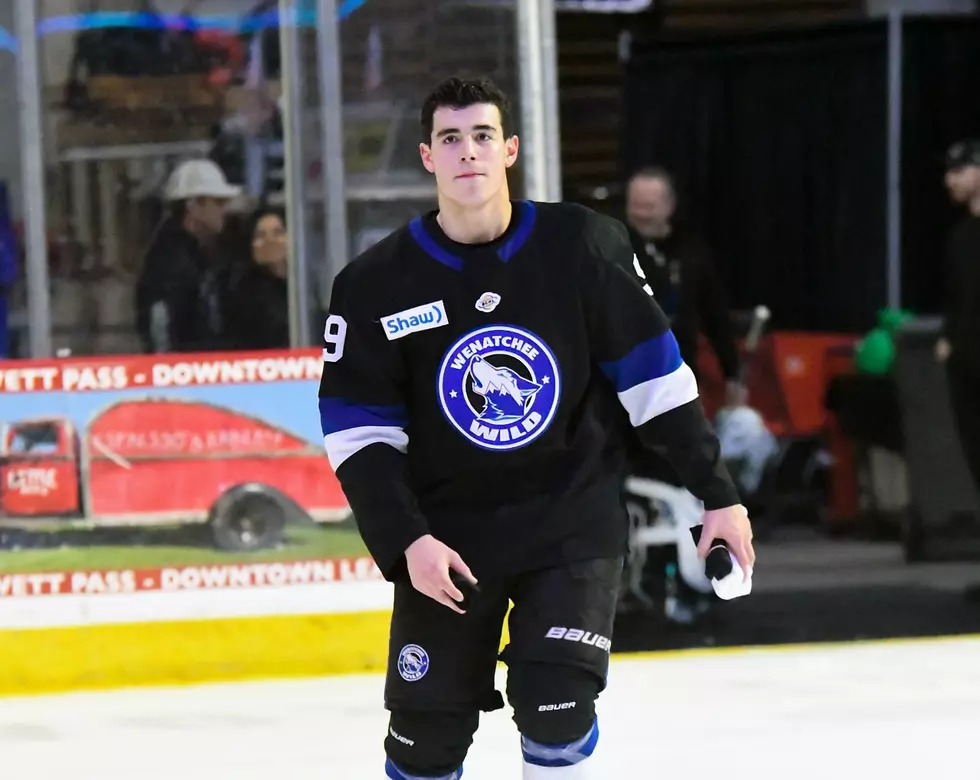 WENATCHEE WILD STORIES – #9 Micah Berger
Wenatchee Wild
The Wenatchee Wild is a Junior A hockey team who play in the British Columbia Hockey League.
The BCHL is a great league to earn a full ride scholarship at Universities across North America. 
The Wild play in the 4,300 seat Town Toyota Center. "The Wolves Den" has provided loud support during their play in the NAHL (North American Hockey League) from 2008 - 2015 and recently in the BCHL (from 2015 to present). 
The Wenatchee Wild are led by Head Coach Chris Clark.
---
Our tenth edition of this seasons Wenatchee Wild Stories - Features forward #9 Micah Berger. Micah arrived in Wenatchee after playing junior hockey with the Sioux Falls Stampede of the USHL. He recently committed to play Division 1 college hockey with The Miami (Ohio) Redhawks.
Connor: Micah, thanks for agreeing to chat and letting us get to know you better. Where did you grow up?
Micah Berger: I'm from Bethesda, Maryland (near Washington, D.C.)
C: What is your favorite NHL team?
MB: The Toronto Maple Leafs
C: Who is your favorite NHL player and why?
MB: It used to be Brooks Laich (NHL player with the Kings, Leafs, Caps & Senators) but now I'd say Auston Matthews (Center for the Toronto Maple Leafs). I just like his style on and off the ice and how he plays.
C: What is your earliest memory of hockey?
MB: Probably playing mini-sticks in a diaper with my brother and my dad at our old house when I was three years old.
C: Who inspired you to want to play hockey at a higher level?
MB: I don't know that anyone inspired me to play at a higher level, but my dad got me into the game, and then instilled a good work ethic in me. It's more self-driven, but I'm definitely influenced by my parents.
C: What do you like about Wenatchee?
MB: I have a great billet family, and Luke Weilandt and I have made quite the cooking duo.
C: What are your favorite places to eat in Wenatchee and what do you order?
MB: The Morgan household – Luke and I make make-your-own sushi. Other than that, I'd say Smitty's is great and the Wild Huckleberry is awesome as well.
C: What is your favorite opposing arena to play at and why?
MB: Cranbrook for sure – I love the lighting in there, and it's the most typical junior hockey barn. It's a great building.
C: What is something Coach Clarky has taught you since you joined the Wenatchee Wild?
Micah Berger: He's definitely helped me round out my game, and it's a work in progress, so there's still a lot of work to do.
Connor: Thanks for taking time with us! You can follow the Wenatchee Wild's #9, Micah Berger on Twitter: @MicahBerger8
The Wild are back home in the Wolves Den for the next two weekends!  February 10th/11th and February 17th/18th
---
Friday night February 10th
Nanaimo @ Wenatchee Wild
7:05 pm puck drop
Battle of the Bands Nights (presented by Wenatchee Valley College)
Town Toyota Center - Wenatchee, WA
Radio: Newsradio 560 KPQ (and on the free KPQ app for ANY device)
Streaming online: HOCKEYTV 
---
Saturday night February 11th
Coquitlam @ Wenatchee Wild
6:05pm puck drop
Ladies Night & LED Flashlight giveaway
Town Toyota Center - Wenatchee, WA
Radio: Newsradio 560 KPQ (and on the free KPQ app for ANY device)
Streaming online: HOCKEYTV
---
Friday night February 17th
Cranbrook @ Wenatchee Wild
6:05pm puck drop
Multicultural Night
Town Toyota Center - Wenatchee, WA
Radio: Newsradio 560 KPQ (and on the free KPQ app for ANY device)
Streaming online: HOCKEYTV 
---
Saturday night February 18th
Cranbrook @ Wenatchee Wild
7:05 pm puck drop
Sportsman Night
Town Toyota Center - Wenatchee, WA
Radio: Newsradio 560 KPQ (and on the free KPQ app for ANY device)
Streaming online: HOCKEYTV 
---
Single game - Partial and Full Season TICKET INFO:
More From The Quake 102.1