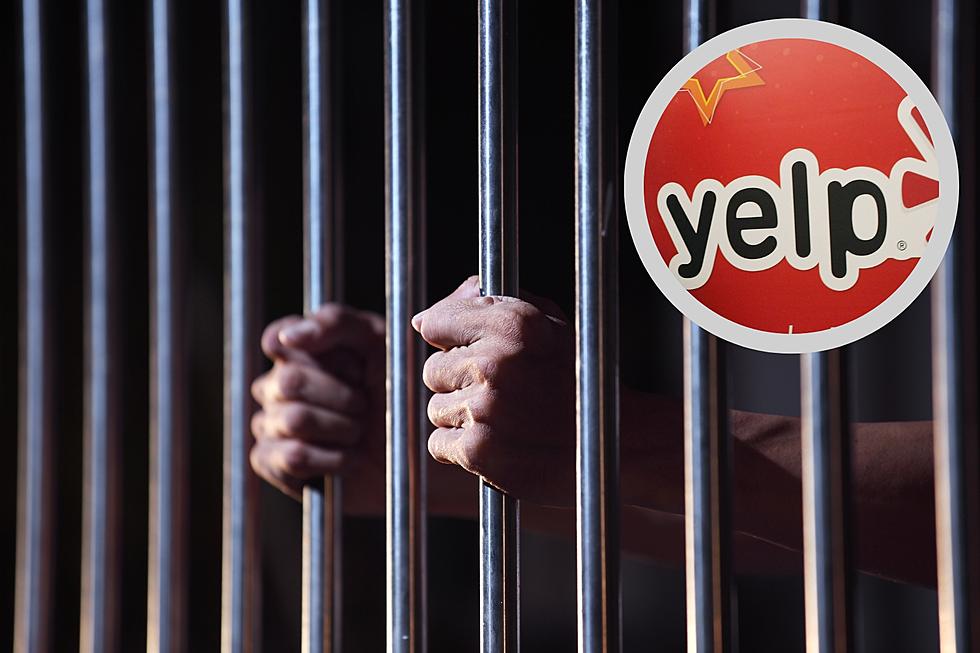 Funny Yelp Reviews of the King County Jail
Getty Images/Canva
"LOCK THEM UP!"
Hopefully, you have never had to experience a night (or more) in a county jail here in Washington state. Being in jail is no laughing matter and of course, jails and prisons are not created nor intended to be a "fun" experience. The point of a county jail is, of course, to provide the most minimal of basic necessities for those who have been arrested for committing any alleged crime(s). Going to jail is a horrible experience, especially if you feel that you have been unfairly arrested. Sometimes the best way to get through grief is through humor.
LIVING ON THE 'BLOCK'
That is something that many of us can all can agree with, which is why reading some of these funny bad 1-star Yelp reviews can either be amusing or a method of prevention. If you haven't ever been to a county jail, be grateful that you have no earthly idea what it's like "on the inside." If you've ever been arrested and had to sleep on a cot or bunk in the "block", then hopefully, you'll find these Yelp reviews therapeutic and amusing, too.

Check out these funny Yelp reviews. Some I had to censor for *language*, but for the most part, you can read these out loud in public to your friends.
9 FUNNY BAD STAR YELP REVIEWS OF THE KING COUNTY JAIL
Tim seems to be torn about his experience in the county jail. He gives the King County Jail a 3-Star Review.
"This place is great for networking for those in the business of scumbaggery. I will admit, the service is a little slow though. I personally would not go back."
Jon not only gives a 1-Star review, he says the King County Jail smells like "mothballs and feet" and wants ALL his money back.
"I demand a full refund, or the money I had before I was checked in, that I suspect my driver (officer) or your attendants (guard) took. Thx. One star."
O.C. is the only 5-Star Yelp reviewer of the King County Jail. She must have really had a blast there.
"The one time I went there, the guard that took me to my cell was super cute."
Matt seems pretty ticked off that there were not attentive medical provisions at King County Jail.
"Guards NEVER respond [to] the call button, even if you have an emergency, so good luck if you have heart problems."
Lisa was not impressed with all the "cheerful" prisoners, and thus gave her thumbs down via a 1-Star Yelp review of the King County Jail.
"I heard a bunch of the inmates hooting and cheering and then the loudspeaker came on to begin to evacuate certain floors...they were cheering and dancing."
Blair has major issues with the unseasoned tastings of the King County Jail cuisine.
"This place sucks. Beds were uncomfortable, cold, no toilet paper and the sack lunch did not slap."
Henry probably would have given more stars in his Yelp review, except for the lack of snacks and recreational options he has apparently experienced at other county jails.
""This one is the worst ever. No field to play or work out, no vending machine. Nothing."
While Nam had the most negative things to say in his 1-Star review of the King County Jail, he appreciates coming away from jail with some new life skills, plus he apparently made some new friends.
"I will say this. I thought YouTube was the only place I could learn life hacks…Jailmates are the best TV Guide and these guys know how to pick up signals on the ol' boob tube like a pro."
Doris contends that there is unnecessary probing at the King County Jail.
"Why my rectum needed to be inspected before I was offered my lovely jumpsuit and plastic sandals is beyond me. I shan't return."
Got a news tip? Email us here.
WHAT TO READ NEXT:
See the Must-Drive Roads in Every State
25 True Crime Locations: What Do They Look Like Today?
Below, find out where 25 of the most infamous crimes in history took place — and what the locations are used for today. (If they've been left standing.)
50 Most Popular Chain Restaurants in America
YouGov investigated the most popular dining brands in the country, and Stacker compiled the list to give readers context on the findings. Read on to look through America's vast and divergent variety of restaurants—maybe you'll even find a favorite or two.