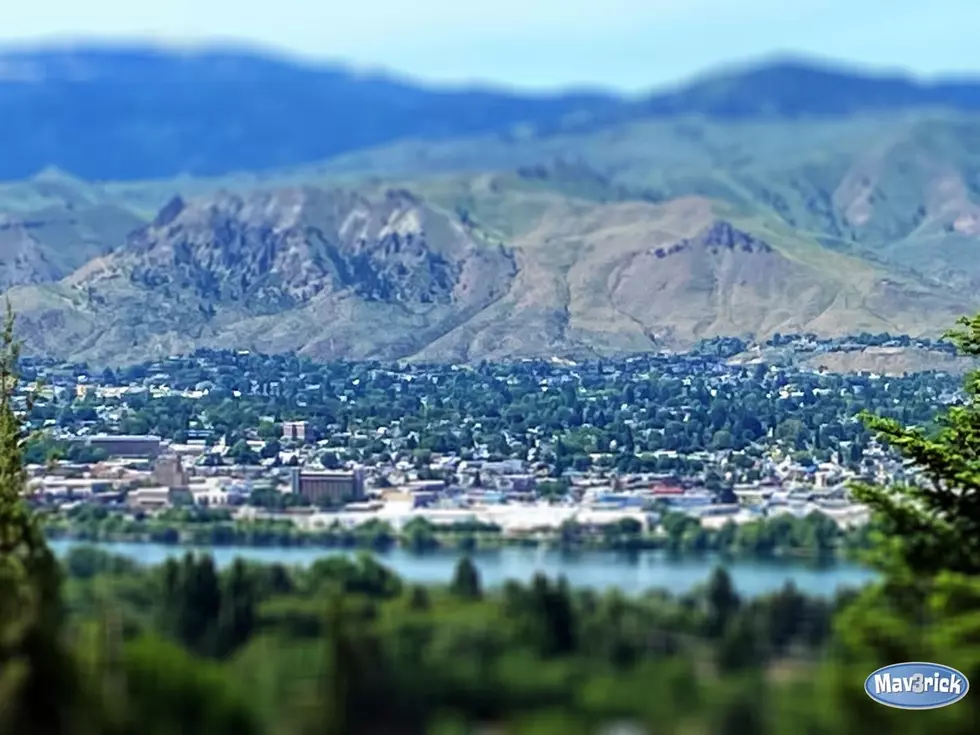 "SO! WHAT BRINGS YOU TO WENATCHEE?"
Photo: Maverick
"SO! WHAT BRINGS YOU TO WENATCHEE?" 
When I first moved to Wenatchee, everyone would ask me a million questions as if they worked at Dutch Bros. The number one question was, "You just moved here? What brings you to Wenatchee?" Some asked more like, "Why would you chose to move to Wenatchee?"
When I answered, "I came here for a job", there's always that follow up question. "What do you do?" I would of course tell them that I'm working at a radio station. And every time, they thought I was making it up. "No really. What beings you to Wenatchee?" So I started to make things up:
"I'm investigating the death of Laura Palmer."
 "I'm addicted to Granny Smith."
"Biden shot down my balloon and I landed here."
"I should be asking you the same question, Molly. If that's your real name."
"I'm part of the witness protection program."
"I'm hunting Big Foot." 
"Wenatchee reminds me of my home town. East Wenatchee."
"I'm here to build more roundabouts."
"I saw a romantic comedy and thought to myself, I bet I can find true love here in a small town." 
In all seriousness, there are some legit reasons why people are drawn to Wenatchee and the surrounding area. Yes, many will tell you they moved here because of the job. But why take the job in the Wenatchee Valley instead of the offer in, let's say, Spokane?
WORKING REMOTELY: Since the pandemic, people have learned to work from home, and have found that they prefer it. If you don't need to go to a physical building every day in the big city of Seattle, why pay the high cost of living? Sell your million dollar home in a crappy school district, and move to the find bedroom community of Wenatchee where you can get a house much cheaper, set up an office in one of the rooms, and work remotely. Of course providing you can find a place to live. 
ENTREPRENEURIAL OPPORTUNITIES: Of course if you do want to work in town and have a business idea that you'd like to start in Wenatchee, like many small towns, the Chamber of Commerce has resources and networks for the new young professionals wanting to start their own businesses. May we suggest developing your own airline to fly out of Pangborn Airport more than once a day?
RETIREMENT: Again this is about moving to a more affordable place than the big city. First, Washington was recently ranked as second best state to retire. I know. This came as a shock to me as well. But if the average retirement income is just about $30,000 a year, it goes a long way (or at least longer) in Wenatchee than on the west side of the Cascades. And then there's still a lot to keep those retirees active. 85 is the new 55. There's a 25 year old reading this saying, that's still old. Don't say that in a crowded Denny's.
LOW CRIME RATE: I know some times we hear stories on the radio that make us shake our heads and say stuff like, "What the Hell is wrong with people? I thought stuff like that happens in Seattle! Not here!" But the truth is (get ready for a cliche') the bad news always seems to get all the attention. Like if a rash suddenly appeared on the face of television's Jennifer Love Hewitt. It's not as bad. In fact, the overall crime rate in Wenatchee is 5% lower than the national average. Which leads to the following.
COST OF LIVING: The cost of living in Wenatchee is 9% lower than the state average and only 3% higher than the national average. And of course, utilities are about 22% less! Bt the way, if you're looking for a place with a better cost of living, look no further than Moses Lake. The cost of living  is 15% lower than the state average and 4% lower than the national average.
 SPORTS: Wenatchee is one of those rare small towns that has it all. We have AppleSox baseball. Wild hockey. Skyhawks arena football. And now we have the Wenatchee BigHorns, the professional basketball team playing in the TBL (The Basketball League), and are gearing up for their first season starting on March 2nd, 2023. And let's not forget how Wenatchee Pickelball is the hottest sport in America and it started here in Washington.
POLITICS: This is something that isn't always mentioned but while the big cities on the "west side" seemed to be screwed up by local politics, Wenatchee (and most parts of the "east side") have their own ways of thinking. Although some policies are still ruled by Olympia, if we're really quiet, maybe they won't know we're here.
SAME REASONS AS IN THE BEGINNING: Look around. Beautiful and livable during the Winter and Summer. With the confluence of the Columbia and Wenatchee Rivers, and a land with great harvests. You can't beat it. So. What brings you to Wenatchee? Isn't it obvious?
More From The Quake 102.1